Toyota's FT-AC Concept Dominates the Los Angeles Auto Show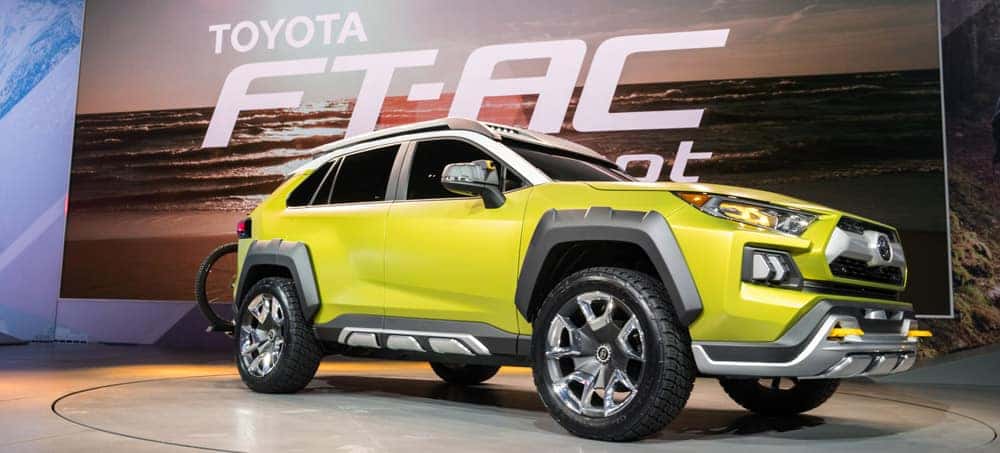 The Los Angeles Auto Show is where manufacturers unveil models that break the mold and challenge the status quo. For 2017, all eyes turned to the Toyota "Future Toyota Adventure Concept", or FT-AC. It offers:
A blend of off-road SUV and city-friendly subcompact
Advanced driving technology
Bold styling
State of the art features and amenities
It's only a concept, but drivers are still hungry to see it join the current Toyota lineup.
FT-AC Vision
Toyota celebrates the FT-AC as "perfect for those outdoor enthusiasts who want to dial up the adventure on their weekend getaways". It's a vehicle taking careful aim at the burgeoning small crossover segment: "No matter the roads, the activities, or the people, FT-AC sparks authentic fun and conversation."
Toyota envisage a gas-powered vehicle with advanced torque-vectoring all-wheel-drive, variable terrain-response settings, and 4-wheel lock functionality. Such a vehicle would function with the sharpness and efficiency of a typical small crossover across city and highway without losing the ability to head into the wilds of the backcountry.
Vehicles like the Toyota RAV4 and Toyota Land Cruiser already demonstrate formidable off-road chops, so we're keen to see what the FT-AC can do.
FT-AC Style
The FT-AC might be a gamechanger in terms of small crossover capability, but the first thing you'll notice is the way it looks.
Revolutionary appearance matches revolutionary character. A long wheelbase pairs with wide track for a commanding appearance, and extra wide fender flares hold 20-inch wheels with all-terrain tires. Further exterior features include:
LED Headlights
Twin Hooks
Skid Plates
Safari-Style Cargo Roof Rack System
FT-AC Features
The Toyota FT-AC is only a concept, so Los Angeles Auto Show attendees weren't treated to a full features list. That said, what we do know is mighty encouraging. The prototype included:
An integrated Wi-Fi hotspot that automatically uploads footage from your ride to a cloud-based storage system.
Removeable foglights that can be mounted to a mountain bike.
Side-mounted infrared camera to record your journeys into the great outdoors.
Contact Us to Find Out More About the Los Angeles Auto Show
The FT-AC continues to draw attention, so we're keeping our ears to the ground to hear the latest. To find out what we know, contact us today. Alternatively, feel free to explore financing or schedule a test drive in one of our current models.