What is Toyota Safety Connect?

If your car is stolen, suffers a flat, or becomes involved in an accident, Toyota Safety Connect can help out with high-tech emergency assistance. The touch of a button connects you with a 24/7 response center that provides:
Emergency Assistance
Stolen Vehicle Locator
Roadside Assistance
Automatic Collision Notification
Let's take a closer look at how each Toyota Safety Connect feature can help you in an emergency.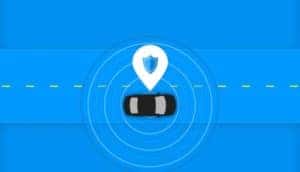 Emergency Assistance
In the event of an emergency, you can push a button to have emergency services dispatched straight to your location by a response center assistance agent.
Stolen Vehicle Locator
If your vehicle is being stolen, Toyota response center agents can help find the vehicle with GPS technology once a police report is filed. That's why vehicles known to be equipped with Toyota Safety Connect are less desirable among thieves.
Roadside Assistance
When you're stuck by the side of the road, Safety Connect helps get you moving again as quickly as possible. Press the SOS button to receive help with everything from jump starts to tire changes to emergency fuel deliveries.
Automatic Collision Notification
Sometimes you're simply unable to call for help yourself – that's why Safety Connect has your back with Automatic Collision Notification. When an airbag deploys or a severe rear-end collision is sensed, a response center is notified. One of Toyota's 24/7 agents will attempt to speak to you, and they can notify local emergency services or request the dispatch of emergency services if necessary.
Find Your Toyota Safety Connect Vehicle from Brent Brown Toyota
An essential complement to the company's state of the art driver assistance technologies, Toyota Safety Connect is available across the new Toyota lineup. To find out more or arrange a test drive, don't hesitate to contact us today.